Hustle Athletic Socks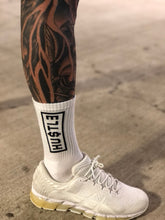 White athletic socks with HUSTLE printed on them.
cotton/nylon 
Hustle or Play, Night or Day.
Get it done our way!
H- How
U- U
S- Survive
T- Through
L- Life
E- Everyday
For proven results,
Get up, Do the work, Get it done, Get PAID in your best Hustle Socks
Tease Apparel
Check out our Hustle Tshirts, Hustle Crops, Hustle Caps aswell to complete your oufit if you are into that matchy matchy like us.
The Tease Apparel- Hustle Athletic Socks are cotton fun socks are designed to be worn for business or leisure, the designs are fun and contemporary.
The Tease Apparel - Hustle Athletic socks are designed to be comfortable from top to toe. Comfort, support and durability is maximised, at exceptional value.
Free Shipping on all orders over $120.
Tease Apparel Hustle Athletic socks are the perfect ideal gift for anyone.
Are you a bit more of a Tease? check out our Tease Range
Sizes Available 
3-7
7-10
9-12
11-14
Check out our the reveiws to see what other people have said about these awesome Hustle Socks
Available for purchase at Kayla's Expertease Hair Salon and on our website 
kaylasexpertease.com.au
Care Instructions
Warm gentle machine wash
Wash dark colours separately
Do not bleach
Line dry in shade
Do not tumble dry
Warm iron if necessary
Do not dry clean (x)