Juuce Dust Up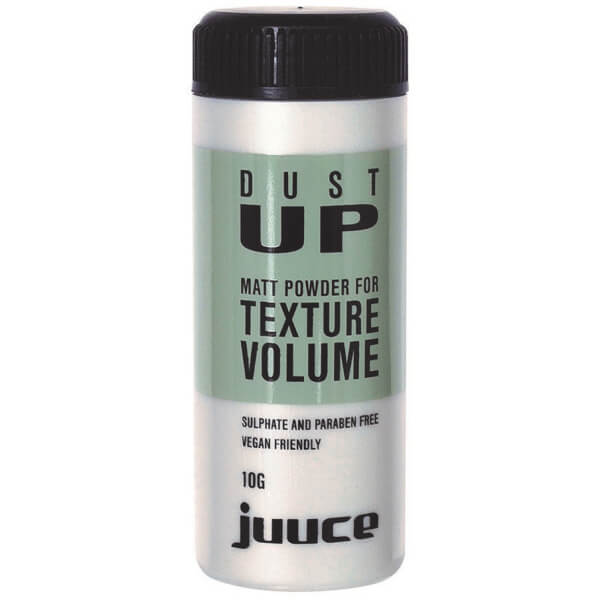 JUUCE DUST UP TEXTURE AND VOLUME MATT POWDER 10G
A matt powder that gives hair the ultimate windswept look. This non tacky oil-free powder gives weightless texture and volume and is great for fine hair.
TEXTURE
VOLUME
How to use. Shake the tin first before opening the lid, open the lid and sprinkle into the roots of your hair, activate the Juuce Dust Up powder by rubbing it into your scalp ans you are rubbing t will activate the powder. as you keep rubbing it it will continue to activate it. when you wash your hair or wet your hair it will de activate the Dust Up powder, dry hair off and re apply.
Juuce Dust Up Powder is 100% Austrailan Made and Owned.
FREE SHIPPING on all orders over $120.
Available for purchase at Kayla's Expertease Hair Salon and also on our website kaylasexpertease.com.au
About Juuce
These ingredients provide all hair types with the essential elements to – PROTECT / MOISTURISE / COLOUR EXTEND / REPAIR / SMOOTH / SOOTHE. The use of natural botanicals can boost your hair with basic elements necessary for hair to stay healthy, strong and not vulnerable to the external environment.
PROTECTING DANDELION root is a rich source of vitamin A, C, and E as well as B-complex vitamins. Every part of the dandelion plant is rich in antioxidants that prevent free-radical damage.
MOISTURISING ALOE VERA contains proteolytic enzymes which act as a moisturiser to condition and leave your hair smooth and shiny. It promotes hair growth, prevents itching on the scalp and reduces dandruff.
COLOUR EXTENDING KAKADU PLUM is Australia's super natural ingredient performer with exceptional antioxidant composition. It is believed that kakadu plum could provide the most powerful natural anti colour fade treatment.
REPAIRING WATTLE SEED contains high levels of amino acids to help repair and promote youthful hair. The powerful antioxidant properties encourage elasticity and suppleness in ageing cells promoting healthy cell turnover.
SMOOTHING DESERT LIME is an anti-humectant with high levels of glycosides for hydrating and promoting smoother, softer looking hair, also assisting with blocking out short UV rays acting as a natural sunscreen.
SOOTHING QUANDONG is super high in antioxidants, which are important for fighting free radicals. Quandong contains vitamin C which is essential for the growth of healthy cells. It also contains vitamin E which is a powerful hydrating nutrient.
Juuce hair care for shiny, soft beautiful hair uses vegan friendly formulations and is sulphate, paraben and cruelty free. If you want a clear conscience while achieving the ultimate in hair care performance then you need Juuce!