Kids Grey Hustle Tshirt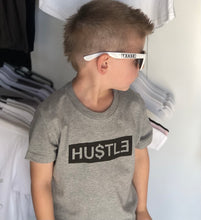 Kids black Hustle Tshirt 
Start them Hustling from a young age wearing Tease Apparel
sizes Available
2,
4,
6,
8,
10,
12,
14,
16
Hustle print on the front, and #teaseapparel across the shoulders at the back.
Regular fit, Crew neck, Mid weight, 100% cotton marles 15%, neck ribbing, side seamed, shoulder to shoulder tape, double needle arm hems
Available in Pink, White, Sage and Black
Hustle or Play, Night or Day.
Get it done our way!
 H- How
U- U
S- Survive
T- Through
L- Life
E- Everyday
Wash less
Wash with similar colours
Wash cold
Wash (and dry) inside out
Use the right (amount of) detergents
Do not tumble dry
Iron on reverse
Store correctly
Treat stains immediately!
Available to purchase Tease Apparel from Kayla's Expertease Hair Salon or on our website kaylasexpertease.com.au
Check out our reviews to see what others have said about how much they love their new HUSTLE Dress how comfy it fits and what their favourite colour is!
Do you fancy yourself a bit more of a TEASE? Cheack out our Tease Collection for TEASE tshirs, TEASE crops, TEASE caps, TEASE socks
 FREE SHIPPING on all order over $120
The perfect gift for anyone, these kids shirts are super gender neutral. Perfect opportunity to have the whole family to be in matchy matchy. We have Ladies, Mens, kids and a Baby selection to choose from.
ONLY A POWERFUL MAN CAN SATISFY A POWERFUL WOMAN!
In 2021
Together Kayla and Dusty created 
TEASE APPAREL.
My name is Kayla, and my Fiance's Name is Dustin.
I have always been a hustler and a creator when it came to my carer- I opened my first salon at the age of 22. I named my salon Kayla's Expertease. at this point you might see a connection between the two business names?? I hear a lot that people think that Tease Apparel sounds a little provocative...
We had ran with our clothing just as .Kayla's Expertease for a little bit.... But soon realized it needed its own identity. We then registered Expertease Enterprises...Then Took the Tease from the end and created Tease Apparel.
Now we quite like the cheeky side of it. But I'm sorry if you are looking for lingerie or toys you've come to the wrong site. hahaha.  
I have always loved how i could transform a clients look and the outlook on life using my creativity and the power of a good conversation, this started me on my fitness journey. I trained hard to transform myself into a fit Mumma  - This is where my passion for fitness came into my life.
In 2018 I became a Personal Trainer encouraging others on their fitness journey.
I still continued with the same name Kayla's Expertease in Fitness.
However in 2019 I suffered a major setback breaking my foot leaving me with severe ligament damage and two surgeries later learning to basically walk again. This left me unable to train or coach others. I got around my salon on a knee scooter for quite some months.
Then we went through Covid19.... during this time i spend majority of my time with business coaches and listening to podcasts. Brainstorming. 
I missed the fitness industry. I didn't want to do online coaching. I had always wanted my own clothing label, But had never been in a position or had the support behind me to help me chase this dream. We had been looking down different avenues to go down.
Christmas Break 2020 Dusty was away at work, I did all my homework found a supplier, found out costs,Created this website ect. So i Put it to Dusty...
I asked him "what do you think?"
He said "do you think you cant do it"
I said "yep"
He replied " Well lets do it then!"
With the help and Encouragement of my beautiful man Tease Apparel was born.
This has allowed me to bring my passion for creativity and fitness ,
designing work out/street wear/ everyday clothing that inspires and is a little cheeky and is comfortable for everyone!
We have since introduced a Kids and Baby range!
And i will let you in on a little secret...
Active wear is coming in 2022! 
Thank You for supporting Tease Apparel!